01505 331 444 / 01505 335 858
Why Alpha Taxis?
Modern fleet – saloons, coaches & mini buses for hire
Wheelchair friendly
Airport transfers
Freephone taxi booking in local supermarkets
Large groups & single fares catered for
Easy online booking & call back service available
Trained, knowledgeable & fully vetted drivers
If you are looking to book a taxi in Johnstone, contact us today for a first-rate service. We are available 24 hours a day, 7 days a week all year round, our team of friendly drivers will get you to your destination safely and comfortably.
very good service from Alpha, will use again, Thank you
Alpha helps us look after my elderly father by collecting his weekly meds, Thank you
I have been using Alpha Taxis for many years now and find the drivers very nice
We've used Alpha many times over the last few years for quality of service and great value for money especially on Christmas Day from our house in Glasgow to take family to Gourock. They never let us down. Friends and family also used them.
Family run business, very nice people. Pleasure to work with them.
Excellent service , professional company that put their clients first. Sympathetic to the elderly and disabled. Really nice people!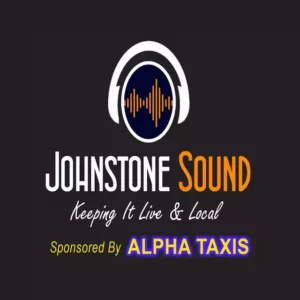 Alpha Taxis Johnstone
Are proud sponsors of the local community radio service Johnstone Sound.
Johnstone Sound is a non profit online Community Radio station for and by the local area.
They have been broadcasting online  since 2019 and very soon will be on DAB Digital radio, once Ofcom announce the new Renfrewshire DAB multiplex .
Johnstone Sound have 15 volunteers and are looking for more to join the station, presenting the News or playing songs our listeners want to hear.